I'm working on another pixelation - this time of one of Vincent Van Gogh's better known self-portraits. If it looks like garbage, trying squinting! To me, a painting like this is "hyper-impressionism" – an extension of my regular style.
Pixelations are a fun way to explore color theory, and I would recommend any painter undertake this exercise to improve their ability to see and replicate color. Rather than being arbitrary, the subtlest difference in hue can completely change the structure of a composition.
One thing I've learned so far? Pallor involves a lot of green.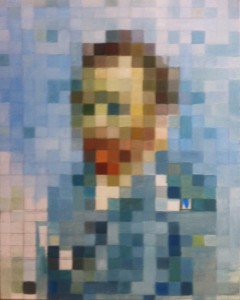 It Ain't Easy Bein' Green | 21 June 2012 |