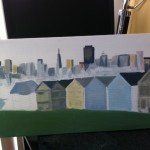 I was recently commissioned to do a fairly elaborate, large-scale project: a quintessential San Francisco landscape.
The only problem? By "quintessential," I mean the patron wanted it to include everything noteworthy from a city that has quite a bit to see. Anyone who has been fortunate enough to visit this city knows that there are sights in literally every direction. After substantial negotiations, I helped him realize that such a painting wasn't possible unless it was a 360-degree panorama. The compromise was for me to paint three more modest panoramas that each captured a distinctive San Francisco sight or view. We agreed upon a skyline with the TransAmerica Pyramid, Coit Tower, and the Santa Cruz mountains in the distance; a shot of the Golden Gate Bridge, and a close-up of the famous Painted Ladies townhouses.
To the left you can see my original concept sketch articulating my solution to the patron, the Painted Ladies halfway finished, and the completed trio of paintings.
SanFran trio | 3 December 2010 |